What Is Google AdSense and How It Works?
In previous articles on our official E-commerce blog "ExpandCart" -the most famous in the Arab world-, we talked about one of the most important, largest, and best pillars and methods of profit from the Internet, which is advertising. During our lengthy discussion, we emphasized that the advertisements are divided into two main categories, namely:
On-Line: means the ads that are launched on the Internet, whether on the various websites and blogs or ads on various social networking sites, "Social Media", headed by (Facebook – YouTube – Instagram – Twitter – LinkedIn – Snapchat – Pinterest – and others).
Off-Line: Offline advertising refers to the ads that are launched on the ground, not the virtual world, which including on the top (Outdoors – television ads – radio ads – newspaper and magazine ads – and others).
Through our series, we will focus on the first type of advertising, which is the on-line Ads, so we will talk about one of the biggest and most popular brokers who offer different types of online advertising services that is "Google.Inc". It should be noted that the giant Google as an intermediary, it provides advertising services for publishers _ the owners of sites and blogs as well as the owners of applications for smartphones and channels of YouTube_ as well as advertisers – all providers of different services_ alike.
During this article, we will talk about the part of Google as a giant media broker that provides different advertising services to all publishers through the service or the tool named "Google AdSense."
What Is Google AdSense?
Google Adsense is a free tool offered by Google to all online publishers, including webmasters, online store owners, bloggers as well as various mobile applications developers YouTubers; in order to make huge profits from those sites and blogs by placing different ads, which are often related to the nature of the content provided within those sites and blogs and channels.
To make money from their sites by placing ads within Google Adsense, all website owners need to  simply sign up for free service and install AdSense on their website and then Google will distribute the ads in various formats within the website, These distributed ads are often related to the nature of the content and services provided within the website.
Depending on the number of ads distributed within the website by Google Adsense, the publisher gets the agreed earnings which we will explain in the following paragraphs in the article.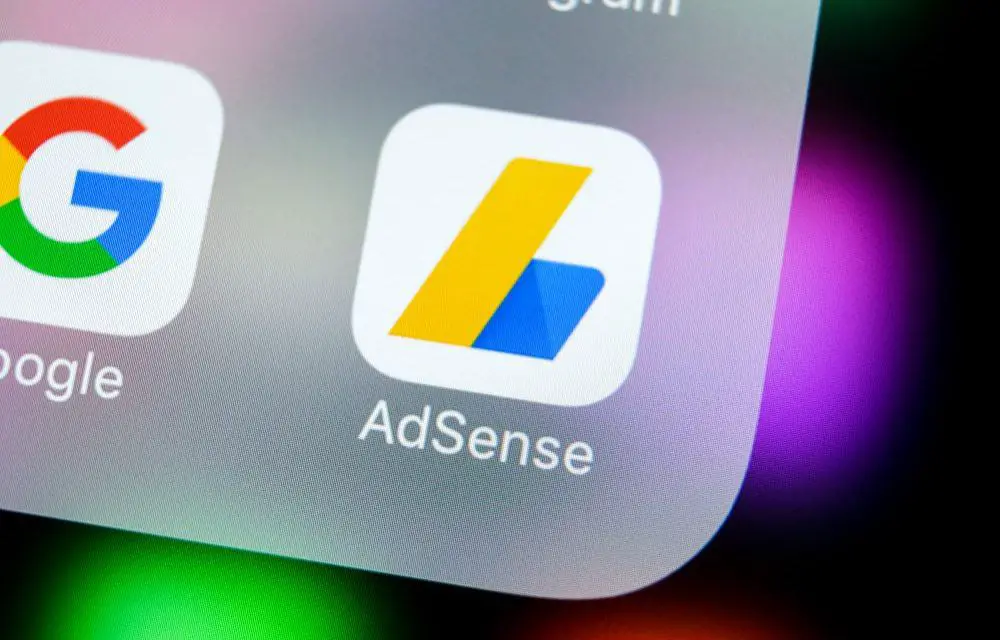 Google AdSense Features & Services
First off, we should mention that Google AdSense allows all website owners, bloggers, mobile applications developers, and all YouTube channel owners to have many great competitive features and services that help them effectively and quickly earn more profit in legitimate and easy ways from their websites. , And the following are the most important features of Google Adsense:
1. The program has a very large customer base around the world, with Google AdSense accounting for nearly 2 million people around the world as clients of the program.
2. Presenting the appropriate announcements to the public on the website.
As discussed in the previous paragraphs, the program reviews all ads to ensure they are high-quality and relevant to content or audience, even when viewed on smartphones and tablets. As a result, more profits could be made.
3. The owner of the website shall make the first and final controller in the nature of the advertisements presented.
Google Adsense provides all publishers and website owners with many options to control the content, format, and places of ads on their sites. They can block ads they do not like, customize the places where ads appear and choose which ones best fit their sites.
4. Broadcast only the most profitable ads.
Google Adsense allows all website owners to access the largest network of online advertisers bidding on their ad space so that they can make the most of their ads.
5. Website owners can get answers to large and small questions about the program at any time easily
Google Adsense enables all website owners participating in AdSense to get useful support and practical advice on how to monetize online content. Gul provides this through:
Help Center.
And video tutorials.
And social channels where you can start conversations in AdSense.
How To Register?
In the definition of Google Adsense service, we mentioned that subscription to the program is free for all publishers, but signing up for AdSense requires a few simple steps to install the program on any website and start receiving Ads are easy and effective, and these steps are as follows:
Visit https://www.google.com/adsense/start.
Click Sign up now.
Enter the URL of the website where you'd like ads to appear.
Enter your e-mail address.
Choose whether you want AdSense to send you personalized help and performance suggestions.
We recommend you choose Yes so we can help you get the most out of AdSense.
You can change your connection settings at a later time.
Click Save and continue.
Sign in to your Google Account.
Select your country or territory.
Review and accept the AdSense terms and conditions.
Click Create an account.
You are now signed in to your new AdSense account.
Conclusion
Google is one of the most important and largest online advertising intermediaries, which offering various services to advertise on all online advertising channels. These services can benefit two key players in the advertising process are the publisher and the advertiser.
Through this article, we focused on the first player in the advertising process, who is the publisher. Accordingly, we have showcased the Google AdSense tool, which enables all publishers, including the owners of websites, blogs and YouTube channels with views and high subscriptions, to benefit from more ads displayed within their sites and channels.
In addition, we have explained all Google AdSense features, services, and pricing, as well as how to register.