What Are Backlinks and How to Build It For Your Store?
Anyone working in e-commerce, e-marketing, or launching websites and blogs, whether public or specialized, knows that building trust in any brand, online store or website or blog is not easy.
It is a task that takes a long time, more efforts, and need a hard work; in order to make the global search engines trust in the credibility and strength of your store or your site or blog and begin to nominate and show them in the results of the first search.
Related Article: Simple ways to gain your online shop customers' trust
Backlinks are one of the powerful factors that effectively help build trust in sites, stores, and blogs. It is also one of the factors that give powerful signals to the world's search engines that this website has credibility and trust and provides useful and professional content, as well as making them trust the content of those sites and help them to appear in the first search results for all the candidates.
Due to the importance of the Backlinks and its effective role in promoting websites, shops, and blogs, we had to review on our blog everything about Backlinks from the understanding, importance, and benefits of it as well as ways that websites, blogs, and online stores can get powerful and good Backlinks.
What  Are Backlinks?!
Backlinks are very simply pointing to the link of your website or blog in other sites or blogs, or showing the link of your site or any article on your site in other sites, which will convert many visitors to the site or store or blog, as well as vote for your site For global search engines.
The frequent reference to your site's link or the link of an article on your blog to other sites and blogs on the Internet is evidence of the quality of the content, service or product provided within that site, store or blog, which plays a major role in promoting and strengthening the domain authority "As well as the page rank of your site on different search engines.
We also note that having many strong backlinks that vote or refer to your blog or online store is called "Link Juice", which is popular with all the world's search engines and is highly dependent on improving your website or blog In general.
The Types Of Backlinks
Backlinks contain two basic types of links, which are:
1- External Links
External Links are the links to your website, blog or online store referred to in other sites and blogs on the Internet. External links are the most important factors that improve the ranking and appearance of your site or blog on different search engines in the world.
2- Internal links
Internal links are also a good type of backlinks that is favored by the Google search engine, as it is seen as a proof of the quality and consistency of content within your site or blog.
Internal links are those links found on the site and refer to other pages, articles or blogs on the same site. These links are also called on the same site or the "internal link" blog.
The Importance Of Backlinks
Backlinks bring many advantages and benefits to different sites, blogs, and online stores around the world. SEO operators are well aware of the importance of Backlinks in many functions and benefits of websites and blogs.
Here are some of the advantages and benefits that can be gained from Backlinks:
1- Organic Ranking
Backlinks have an important and influential role in the emergence of your site or blog or store naturally in the first search results for various search engines around the world free of charge without the need to pay budgets in addition to the effective role in improving and enhancing the ranking of your site On search engines.
Important Article: SEO gaps that negatively affect your website on the internet
2- Organic Traffic
Backlinks attract many visits to your site. It is also one of the most important and best sources of free access to your website, blog or online store without paying for it.
3- Indexing
Backlinks help search engines to reach and crawl your site faster and more effectively, thus driving search engines to quickly archive and index your site, blog or e-store to appear naturally on search engines and in the first results.
4- Search engines' Confidence
Increase the confidence of search engines and your credibility with those engines greatly because the search engines consider these links as a vote from one site to another and the greater the number of votes and the quality of this sound whenever this is evidence of the reputation of the site for search engines.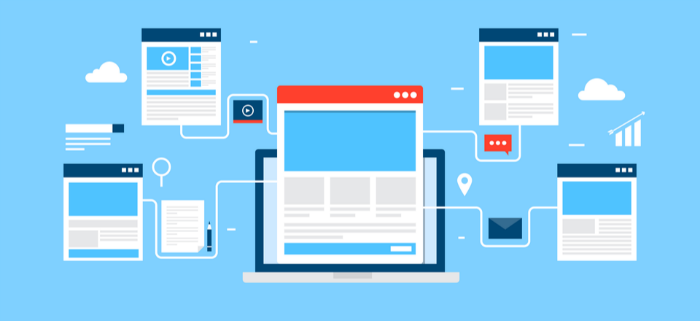 How to Build A Powerful Backlink for Your Online Store?
Create and add good, useful, and unique content to your online store that pays websites and blogs to be used as a reference and source of information.
Get links from manufacturers or product suppliers to your online store by ordering directly to your store on their sites and blogs.
Count on the influencers in your field and encourage them to promote your store's link to their personal accounts and their various blogs. The influencers are (bloggers, Youtubers, owners of huge accounts on social networking sites, etc.).
Interact and comment on blogs that discuss topics related to what you sell on your store by adding valuable opinions and then placing your link to your store.
Publishing as a guest, known as "guest posting", is to publish on other websites and blogs and add some links to you.
Request links from bloggers, sites with high credibility and widespread fame directly for money.
Related Article: 4 Effective Ways to Drive Traffic to Your Online Store
Conclusion
In this article, we tried to provide a comprehensive and complete guide to the backlinks. This guide includes a clear definition of the concept of Backlinks and what it means, Review the types of Backlinks and the most important advantages and benefits of Backlinks to various sites, blogs and online stores around the world.
We also tried to provide the most important tips and recommended steps to get good backlinks to your website, store or blog. It can improve and enhance your website rankings on different global search engines and drive these engines to show your site in the first search results Naturally and freely without the need to spend large financial budgets for this purpose.