What Is Dropshipping ?!
It is known that starting an e-commerce business and selling online requires its owner to be one of the service providers or owners of products, but does this mean that people without product cannot launch their own project in e-commerce?. Of course not, with the dropshipping options it became easy and available to all people around the world to start their own e-commerce business and own online stores without having any products at all, or in a more accurate sense without being the official owner of the products that they sell on the online stores.
During this ExpandCart's new article, you will get an accurate understanding of what the term dorpshiping means and everything related to this concept, in addition to getting a closer look at its pros and cons.
What Is Dropshipping ?!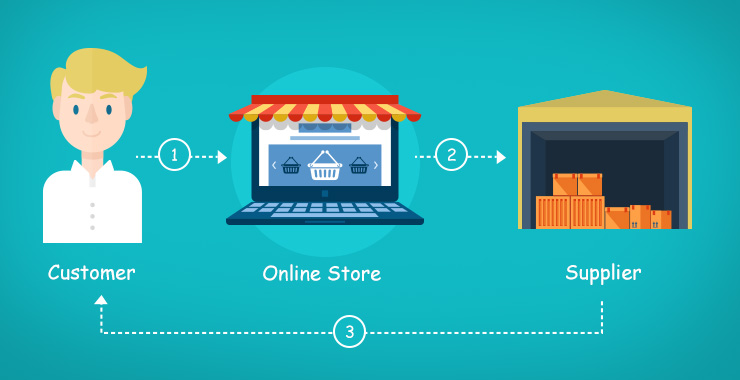 In the beginning it would be helpful to know the answer to the question:
Dropshipping is the fulfillment scenario where the store does not stock products, but buy it from a third-party, where the products are shipped then to the buying customer. To give you an estimate, around 33% of the online stores use the dropshipping method.
The merchant doesn't have to deal with inventory or its fulfillment, it's all given the third-party supplier that handles the product.
As it doesn't demand the traditional retail model, dropshipping might seem ideal to entrepreneurs, where no brick-and-mortar storefront is needed, no need to pay overhead, and products don't need to be stocked. All is needed is just an online storefront and a deal with a wholesale supplier, and that's it.
What entrepreneurs need to take care of are gaining customers, and processing their orders, acting as a middleman, where you mark up the products, which is a simple business model that could be sustainable, easily managed, and extremely rewarding.
Yet it's important to realize both the pros and cons of setting up a dropshipping business, which will ease the process for you and make it more effective.
Benefits of Dropshipping
So, you don't really need much experience to get going, just the business basics are enough to kick-start your e-commerce business. No warehouse, no stocking or shipping, and no upfront investments are needed. Besides, you could get it up and running in the matter of hours.
All you need is the functional knowledge and using the right tools, which you can easily find in this guide, which will equip you with the proper knowledge to get you started.
Not much effort is needed to scale up, you will just need to up your sales and marketing efforts while keeping your daily efforts almost the same. Moreover, you can do most of activities by yourself from your very laptop, keeping the cost at minimum as your business grows.
In short, you get to be your own boss and play by your own rules and work at your own pace, making dropshipping one of the most flexible careers. It's also flexible in the sense that it gives you the chance to adopt the decisions that benefit you the most, beside the option to automate the platform on the fly where you are away, on a vacation for example, allowing you more freedom to do more.
With minimal commitments, so as soon as you have secured your supply source and set the whole thing up, you will mostly be only managing your online store.
The Disadvantages

So, you need to expect low margins at least initially, as the product margin in some types of products could be small. The problem is even bigger when you dropship in a competitive niche, as you fight to grab customer's attention, so it's better to opt for niches with less competition. Still, your profit might plateau after a while, so it's better to maintain a decent amount of sales so that your business stays being profitable.
Order processing difficulty:
It usually works simply; your customer orders, and it's fulfilled by the supplier after you process the request, but imagine sourcing products from multiple suppliers, and each of them use a different shipping solution, this could actually be a problem for both you and your customers. Why? Costs can be higher than expected, and shipping multiple products can be problematic.
Also, suppliers can use different systems for processing and billing your shipments, and it can get challenging while managing them and the related activities.
Lack of a lot of control:
Another disadvantage is that you lack control over important aspects of the dropshipping process such as stock, order fulfilling, and order shipping, especially when you want to provide a seamless experience yet you rely on your suppliers.
More challenging customer service:
This is another problem that happens when orders go wrong or suppliers fail. Because you're just the storefront and don't have a lot of control, it can be difficult to sort out orders and handle customer support.
Because you are just the storefront, you lack full control when a supplier makes a mistake or delivers a wrong order, so it could be a bit challenging to sort out orders and handle customer interactions. Also, you will take the blame of your customers when they complain, so it's crucial to be willing to handle suppliers' issues effectively when they arise.
Is Dropshipping for You?
This means that dropshipping isn't for everyone, especially if you are looking for a quick way to get rich. If you are serious about dropshipping you might have the following doubts:
"Not sure if I have enough time for business"

"I don't want to underperform at my 9-to-5 job"

"Not sure if I could get fired from my day job."
So here are 2 approaches that could work.
Would You Do Dropshipping?
There are many ways to start and grow a dropshipping business. Our success stories talk about merchants who have started dropshipping businesses to make a few extra hundred bucks a month, while others have grown multiple six-figure stores. Whether you are looking to start dropshipping as an introduction into e-commerce or a business model to last forever, it is important to understand how dropshipping can be profitable to you. 
Dropshipping could definitely be profitable, with merchants make what ranges from hundreds of dollars per month to others who have stores that are worth a six-figure number, thus it's useful to understand how dropshipping could be profitable to choose the model that suits you.
Dropshipping as a Side job

What is dropshipping's main appeal? Because it's flexible and it doesn't demand much, it's the ideal side job. Many entrepreneurs choose to do dropshipping on the side while they have a main job that provides a steady income. In other words, you don't have to sacrifice your day job to pursue your dreams of becoming an entrepreneur.
Dropshipping is appealing due to its flexibility with minimal demand of effort and time making it an ideal side job, so you could definitely have a day job while pursuing an online storefront that fulfills your love for entrepreneurship.
The first and most important step is to check your company's policy that it allows a side business (Most companies are fine with it), then you are good to go.
Not much time and effort are needed to maintain a dropshipping business, it could just take a couple of hours each day to secure a successful online shop.
All it requires is a bit of time management and organization skills to manage both your day job and side hustle efficiently without sacrificing your lifestyle, just find a schedule you can stick to each day and you are good to go.
As a Full-Time E-Commerce Business
And while you can make dropshipping a side job, it's absolutely a viable career path that you can do full time, too.
It's possible to scale up easily at low cost, so that when you have attained a certain volume of sales that satisfies you, you can transition from a part-time job to a full-time one, at a pace that's favorable to you.
This, however, will take some time to happen, once you have reached an effective formula that secures a steady income for you. Once you have done that, your business could start to feel as if you are generating a passive income. Moreover, since it doesn't take a lot of time to maintain, you could even start a side part-time job while managing your dropshipping online store.
Getting Started Without product

It might seem like a daunting task, but once you have learned how to do dropshipping, it will transform into an easy process for all parties involved, especially for you, as a merchant, where you get to do everything from the convenience of your laptop without touching a single product you sell online.
And it's useful to bear in mind that you don't need much of business experience to open a dropshopping online shop, certainly, it could help to learn more, but don't let that stop you from launching your own gig as many other entrepreneurs have done it, without the need for a fancy MBA or heaps of experience, and that's one of the benefits of dropshipping, that you can learn it as you go.
Additionally, there are currently many resources that explain how to make dropshipping simpler and easier than before, such as this guide, giving you a lot of advice about operating dropshipping, and making profits with even no experience whatsoever, and as the time passes you will even learn more from the hands-on experience.