The Beginner's Guide to eBay Online Shopping
Shopping online to obtain any product or satisfy your different needs of products has become very easy, especially after the spread of the concept of e-commerce on a wider scale around the world, and the spread of thousands and thousands of distinguished electronic stores that offer millions of products with different rankings around the world.
And, eBay is considered to be one of the most popular and largest online stores around the world that help both customers and retailers.
It helps customers find their product and enable traders, product owners, and retailers to have their own online stores that can help them sell their products or services online to a large base of customers around the world.
Hence, through this ExpandCart's new article, we will put the beginner's guide to eBay online shopping; what is it, how does it work, how to sell on it, and make more profits.
What is eBay online shopping?
eBay is an online shopping site where auctions and customer to customer sales happen, also you could find online merchants who utilize eBay as an online sales channel. Though available in many countries, you could simply use your zip code to find local products, on the other side you could look up the availability of products either nationally or internationally.
You could open an eBay account, free of charge where you can choose to buy or to sell. However, if you have a seller account, be prepared to incur some fees like listing fees, for example. Also, costs shall vary depending on the price you sell the products for and depending also on the duration of listing your products.
Since it's inception in 1995, eBay has turned into a popular name, even if you haven't used it before, there is a big chance you have heard the name somewhere in your circles or in the media.
But why? Because you can almost sell and buy everything over there, where millions of daily transactions occur, and one of the biggest advantages of eBay is the fact that an item there is worth what someone will pay to get it, a purely capitalistic feature of this marketplace.
And this means that sellers can get very high prices for most wanted items, like collectibles, any discontinued items, items that are unusual or unique in its nature or short in its supply, and this has, in turn, made eBay the go-to place for collectors, who can avail items that are hard to find locally.
What's an eBay Shop and How Does it Work?
An eBay shop is a place where sellers can display their products or merchandise in a single place, where this place looks like traditional online stores if compared to single eBay product listing.
A customized web page on eBay can enable e-commerce businesses to communicate their brand the way they planned to. That's why if you saw a red door-style icon next top the seller's user ID, it means that it's a clickable link that will direct you to their eBay shop.
So, to kick-start an e-Commerce business using eBay, your go-to is an eBay shop, where you can make the most out of a set of easy and user-friendly tools to build your storefront the way you want.
Shopify vs. eBay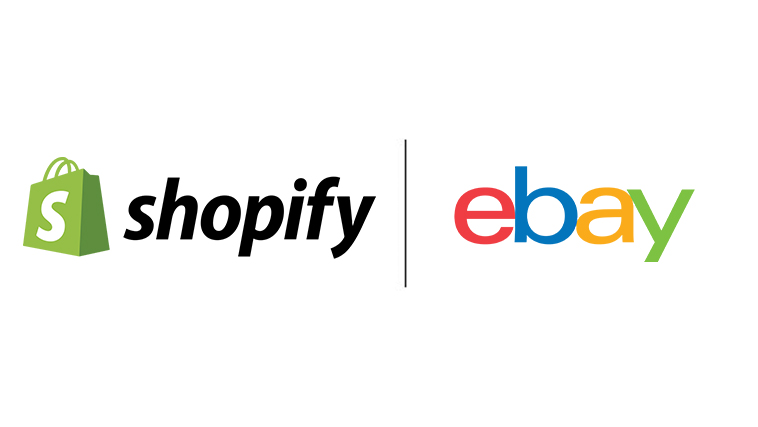 There is a large distinction between selling on eBay vs. selling on Shopify, as they are largely different business models, so you would want to assess your options before delving into the world of e-commerce.
Some factors to be considered could be:
1. Accumulating Traffic
Shopify is surely one of the simplest platforms to use, where you can create and have your online store up & running in one day. Gaining traction, however, will need a marketing plan to devise ways on how to get customers to your e-commerce store, the thing that will cost you either time or money.
On the other hand, eBay already has a platform that is full of traffic, where hundreds of online customers already reside while seeking products to buy. This comes across as normal as eBay invests a lot in driving traffic to their platform so that merchants can benefit from it.
2. Building a Fan Base
An optimal solution that e-commerce entrepreneurs opt for is establishing their online shop on both eBay & Shopify platforms. The reason they do so is the edge they get from eBay in the form of quick sales from the audience that's already there, along with the opportunity to build loyal customers on Shopify, where the latter proves further lucrative when implementing an online storefront.
3. Costs
As for Shopify, the cheapest plan that exists is $29 per month, which gives you access to your online store with as many listings as you like. On top of such a plan, you will have to pay 2.9% and 30 cents every time a successful online purchase is completed using a credit card. If you opted for Shopify Payments, you will not have to pay for anything extra.
On the opposite side, though you don't have to pay a monthly fee on eBay, you will actually have lots of other costs; for example, you have what is called "insertion fees" and "final value fees". That's beside a percentage they take from the sales that you accomplish.
How to Sell More on eBay
These are some of the surefire tips to boost your sales on eBay:
1. Be Trustworthy
Although it seems logical, it needs some work from you, the more you hustle, and provide top-notch service, the more you are getting more positive feedback coming through, and the more you get those, the more your credibility increases. That's why new sellers make fewer sales than more experienced sellers, as buyers are more inclined to trust sellers who have a good reputation relative to eBay's feedback & rating system.
To get a better rating, you could do the following:
Selling inexpensive and small products. Doing so will get you high sales in a relatively short time, which will hopefully get you a reserve of positive feedback.
Taking care of packaging to have your products arriving in good condition.
Reply to customers messaging you as soon as you can.
Approve a request for a refund, just make sure to get back your merchandise first (Especially the expensive ones!)
2. Improve Your Products' Photos
Try to take as many high-quality photos as possible for your products, because they are the ones that boost conversion rates. An added bonus if you succeeded in showing your product in action, too!
Also, consider:
Adequate lighting,
A professional background,
Capturing as much detail as possible,
3. Research Your Products
Know the proper pricing for your products by having a look around to find out what other sellers are pricing for products similar to yours.
Also, consider:
Photo angles
Description formatting
Whether or not to auction
4. Reword as much as you can
There's no need to write every product description from scratch. Instead, copy and paste descriptions from similar products and reword them.
To save time and effort, you could use already existing descriptions and copy from it to other products while adding the necessary rewording. Try to utilize a structure that is loose to be applicable to the biggest range of products while keeping your copy original, without compromising SEO efforts.
5. Aim to Be a Power Seller
A "Power Seller" is a status that a seller receives when he makes frequent sales and provide top services to their customers, a thing that is to be considered if you are serious about your eBay shop sales.
Here is how to become one:
Get at least a 98% positive rating status.
Selling at least 100 products and generated $3,000 worth of sales in the last year.
Being logged into eBay for at least 90 days
It takes time, but it's something to be seriously considered that could up your conversion rates.